In regard to the housing market, it's no secret that 2021 has been a year for the sellers.
For homeowners considering selling, the combination of historically low interest rates, low inventory, and high buyer demand creates the perfect scenario to sell their home. Let's take a look at what is driving this seller's market and why if you're thinking of selling …. NOW IS THE TIME!
The National Association of Realtors (NAR) explains:
"Total housing inventory at the end of March amounted to 1.07 million units, up 3.9% from February's inventory . . . Unsold inventory sits at a 2.1-month supply at the current sales pace, marginally up from February's 2.0-month supply and down from the 3.3-month supply recorded in March 2020."
However, even though the number of houses for sale this spring rose a bit, inventory stayed at an all-time low (See graph below):
Buyer demand remains high even with the low inventory creating a gap between supply and demand.
This scenario gives sellers a perfect opportunity to enter the market enabling their homes to get plenty of attention and in most cases multiple offers in a very short period of time.
This supply and demand imbalance is putting homebuyers in bidding wars at an accelerating rate. The average number of bids received on the most recently closed sales is 4.8 offers. This number has doubled since the first quarter of 2020, according to NAR reports. (See graph below):
As buyers face increasingly tough competition while searching for homes to purchase, they're more likely to be flexible and generous in their negotiations. Here in the Miami market, we've had sellers receiving well over 20 offers within 24 to 48 hours of their homes hitting the market. We have also seen an increase in offers submitted from buyers prior to even seeing the properties themselves. Properties are going under contract within less than a week of being on the market, well above asking price with shorter than average inspection periods, no appraisal contingencies, and faster closings. This is giving sellers the opportunity to be more selective and choose the buyers that fit their needs.
The low months of inventory and high number of offers received on properties for sale inevitably gives us a very fast paced market.
According to NAR "Properties typically remained on the market for 18 days in March, down from 20 days in February and from 29 days in March 2020. 83% of the homes sold in March 2021 were on the market for less than a month." (See graph below):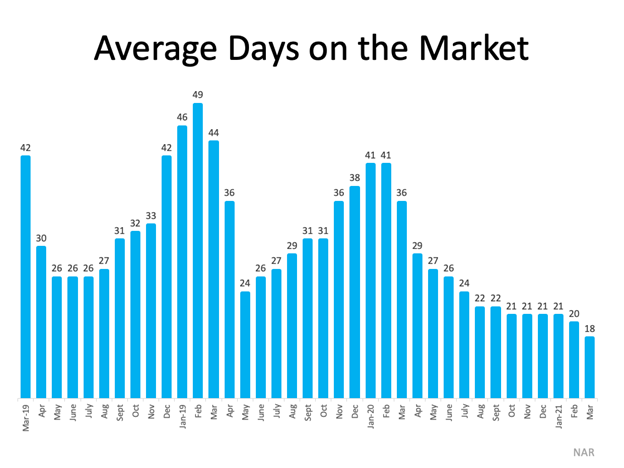 NAR Chief Economist Lawrence Yun explains:
"The sales for March would have been measurably higher, had there been more inventory…Days-on-market are swift, multiple offers are prevalent, and buyer confidence is rising."
There is no doubt we are in a sellers' market and working with a trusted real estate professional, who will assist and guide through the buying/selling process, is essential for buyers and sellers navigating the real estate market these days. Give us a call, we are always happy to assist you with all your real estate needs.